Introducing the 180 Smoke recycling partnership with RBH…
We're pretty excited to announce that we have officially launched the Smoke-Free Recycling Program in partnership with Rothman's, Benson & Hedges (RBH). While helping people transition to a smoke-free life is important, doing it in a sustainable, environmentally-friendly way is just as, if not more, impactful.
To that end, RBH (which has a vision to make Canada smoke-free by 2035) has run a national cleanup program for a number of years (in 2020 alone, the initiative saw 280,000 volunteers across Canada clean up over 1M lbs of litter). The company has reduced energy use in its Quebec City factory by 40 percent and launched a national cigarette butt recycling program to tackle one of the most littered items in Canada – to date, more than 160,736,180 cigarette butts have been collected and recycled.
Editorial aside: If you're interested in a little light reading, feel free to download RBH's Sustainability Report from 2020, which speaks to the company's vision and strategies for creating a smoke-free Canada and being a leader in the reduced-risk product space. 
That said, one of the key reasons we're personally excited about the RBH initiative is that, in an industry-first approach, the program will also accept and recycle smoke-free products from any RBH competitor brand in Canada. Meaning consumers can recycle, or safely dispose of any vape pods, vape devices, used heated tobacco sticks, and heated tobacco devices, as well as cigarette butts in 180 Smoke Vape Stores.
Needless to say, 180 Smoke is proud to become a part of this national initiative. It has already been established in a number of our locations (listed below), and we will continue to roll it out across all 180 Smoke locations until all stores are fully participating.
Recycling has been on our radar since the beginning of our business, and something we've assisted our customers with in the past. To date, our in-house activities required customers to give recyclable materials directly to a sales associate. The new Smoke-Free Recycling Program means there will be a clearly recognizable, dedicated bin in each store, and customers can simply dump the appropriate materials in.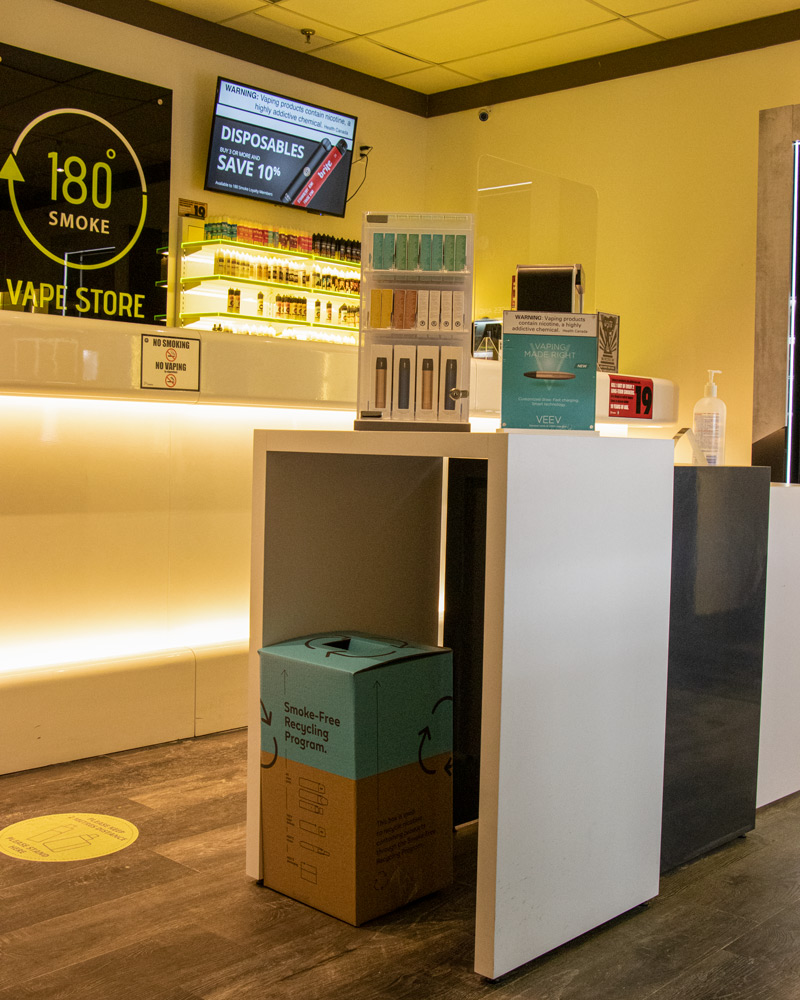 180 Smoke locations currently offering the RBH Smoke-Free Recycling Program include:
Vape Shop Brampton – Bramalea
North York Vape Shop – Centerpoint Mall
North York Vape Store – Don Mills
Liberty Village Vape Shop
Mississauga Vape Shop – Enfield Place
Vaughan Vape Store – Jane & Hwy 7
Vape Shop Toronto – Yonge
Check out our store locator for more information (we'll be updating this with details around which locations offer recycling).
All that said, there are, admittedly, some limitations to the program. It doesn't include e-liquid bottles, which is why we are always in the process of assessing and improving/developing our own in-house recycling program, alongside the initiatives we're working on with our partners, to ensure we are addressing any and all concerns customers may have.
Ask a store associate about how you can recycle your e-liquid bottles, and rest assured that we're continually looking into other sustainability initiatives, like general battery recycling and disposal, as well as disposable mask recycling, both of which customers have expressed interest in.
NOTE: Many (most) of these environmental and sustainability issues cross over into the cannabis space, so we are in the process of implementing a like-minded program (internally, or with the best partner(s) available) across our parent company's (Delota Corp.) growing Offside Cannabis banner, along with our other dispensary locations.
If there are any services you'd like to discuss, or areas we can improve, let us know in the comments below, and sign up for our newsletter to keep in the know.